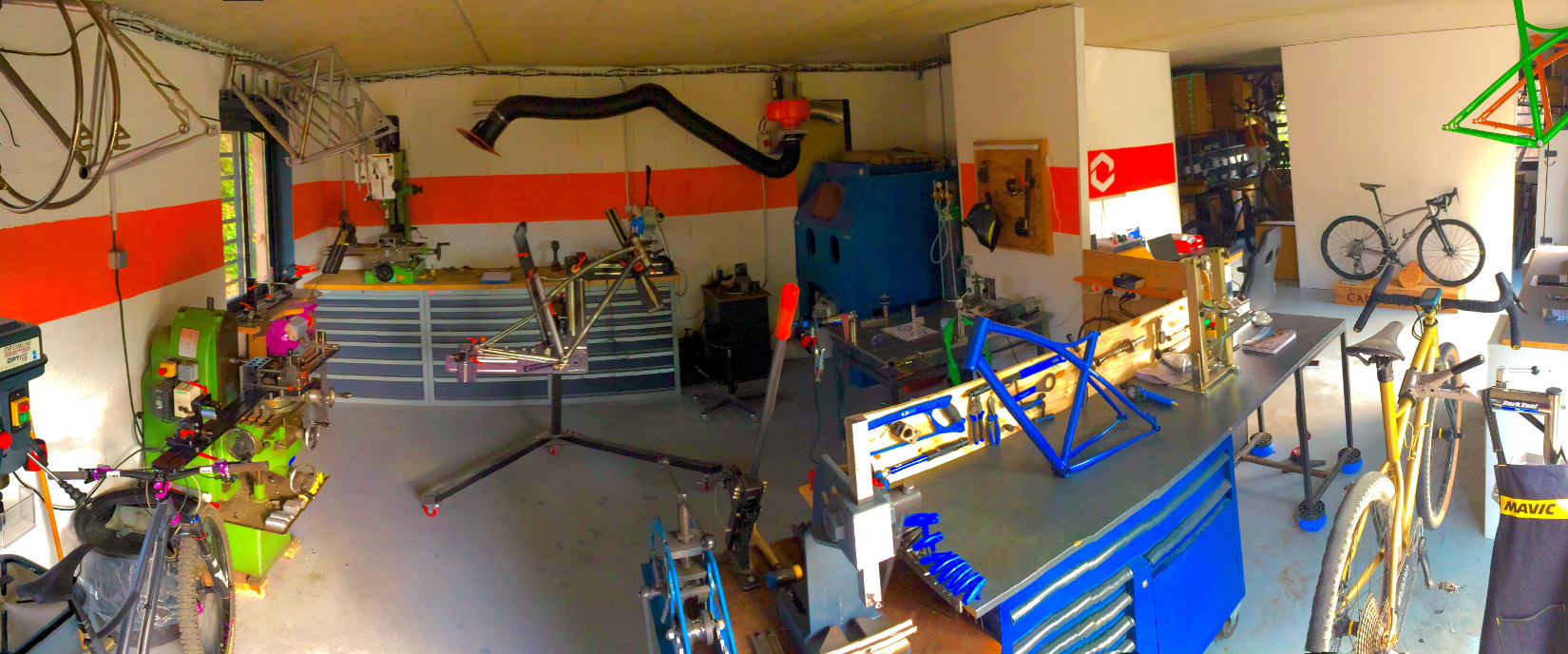 French manufacturing
For the manufacture of our frames we created a completely new production line to meet exacting requirements that combine traditional now-how and modern industrial processes. All our frames are 100% handmade at our workshop at Ille sur Têt in the Pyrénées-Orientales. We are proving on a daily basis that it is still possible to manufacture to very high quality standards in France, thus reviving an expertise that was ours from the start, not so long ago.
Frame prototyping and manufacturing
All of the bike design, development and manufacturing is carried out at our factory in the Pyrénées-Orientales. We manufacture all the prototypes of our models in-house so as to develop our own production tools at the same time. All our kinematic and mechanical simulations are carried out using specific software that enables us to perfectly adjust the performance parameters: rigidity, comfort and kinematics (for which we even developed our own on-board data acquisition system).
Computeur aided manufacturing
The One4all is the model using the most CNC-machined parts - such as the rockers, which rely on the excellent mechanical properties of 7075 aluminium, the anodising of which further improves their lifespan. All the One4all pivots are produced by lathe turning, our disc brake supports and special couplers by laser cutting. We use a 3D printer to produce our SAG indicator.
Steel tube extrusion
All our frames are made of steel: highly durable, comfortable and easy to repair - and steel is also recyclable. Our bent tubes come from a French foundry, aeronautic certified and extruded according to precise chemical and mechanical characteristics: Stretched-relaxed 25CrMo4 with a 15% coefficient of elasticity and mechanical strength of 800 MPa. A double, non-destructive eddy current test is used to detect defects and confirm the homogeneity of mechanical properties so as to meet the certifications required by the aeronautic manufacturing chain, ensuring the perfect quality of our tubes and conformity with specifications: the tubes thus obtain a class 2 aeronautic certification. The other tubes of our frames are top-of-the-range Reynolds 853DZB, Columbus 29er and Spirit classic series.
Tube bending
The bent top and seat tubes are, in a way, one of Caminade's trademarks. They give a strong visual identity and enable innovative geometries that take advantage of steel's qualities of comfort while increasing stiffness in recovery and steering precision. The bending stage is crucial. We use 3-axis roller bending machines for large tubes and digital 5-axis for the three-way bending of the One4all mountain bike's chain stays.
Notching and TIG welding
Once bent the tubes are cut to fit perfectly with each other so as to be positioned to form the frame and then welded. All welds are TIG welded. Then the frames are put through sandblasting to clean and prepare them for the painting.
Powder coating
Our paint workshop in also in-house and allows complete customisation of the frame color. We use powder coating which i svery strong and durable. We can offer gloss, mat and sand texture colors.
Assembly and checking
Final step in the birth of a Caminade bike: all the frames are assembled and tested in our workshop in the Pyrénées-Orientales before being packed and shipped to our customers. Particular care is given to the One4All full-suspension mountain bike - made up of more than 50 components assembled together.
Custom programme
In our workshop, we are able to make custom frames adapted from our production models to meet the expectations of our increasingly sophisticated customers: electric bike, children's bike, integrated gearbox, etc...
« Manufacture in France »: one of Caminade's founding principles