Bikepacking in Canigou on a gravel bike
After having tasted long distance road riding (BTR Vézelay Barcelona) and one day gravel bike challenges (Pirinexus 360, Gravel de Fer), I was itching to get out on a multi-day self supported adventure. 


So, at the end of July, with Brice and our friend Laurent (aka the ariégeois lumberjack), we decided to head to the Pyrenees for a week-long gravel bike trip with overnight bivouacs, in order to be completely free, to adapt to nature, and to let ourselves be carried away by the gravel spirit!

But bikepacking requires good preparation if you want to keep the pedals turning day after day and not finish a zombie.
If you are ready to forgo washing and wear the same outfit (including short liners) for several days, you've already completed a big step; now it's just the question of the night. There's no way I could bivy with a simple tarp, so I opted for a tent, preferring the reassurance of a good night's sleep.



Brice and I chose a one person tent, Camp Minima at 1kg, a Nemo Tensor mattress weighing 350gr and a Sea to Summit Spark I sleeping bag at 348gr.
All this needs to fit into a 9L waterproof bag attached to the handlebar by a Caminade strap (another prototype).

The rest of our affairs need to go into a Caminade frame bag (already available to buy) and a saddle pack (still busy testing to choose the model).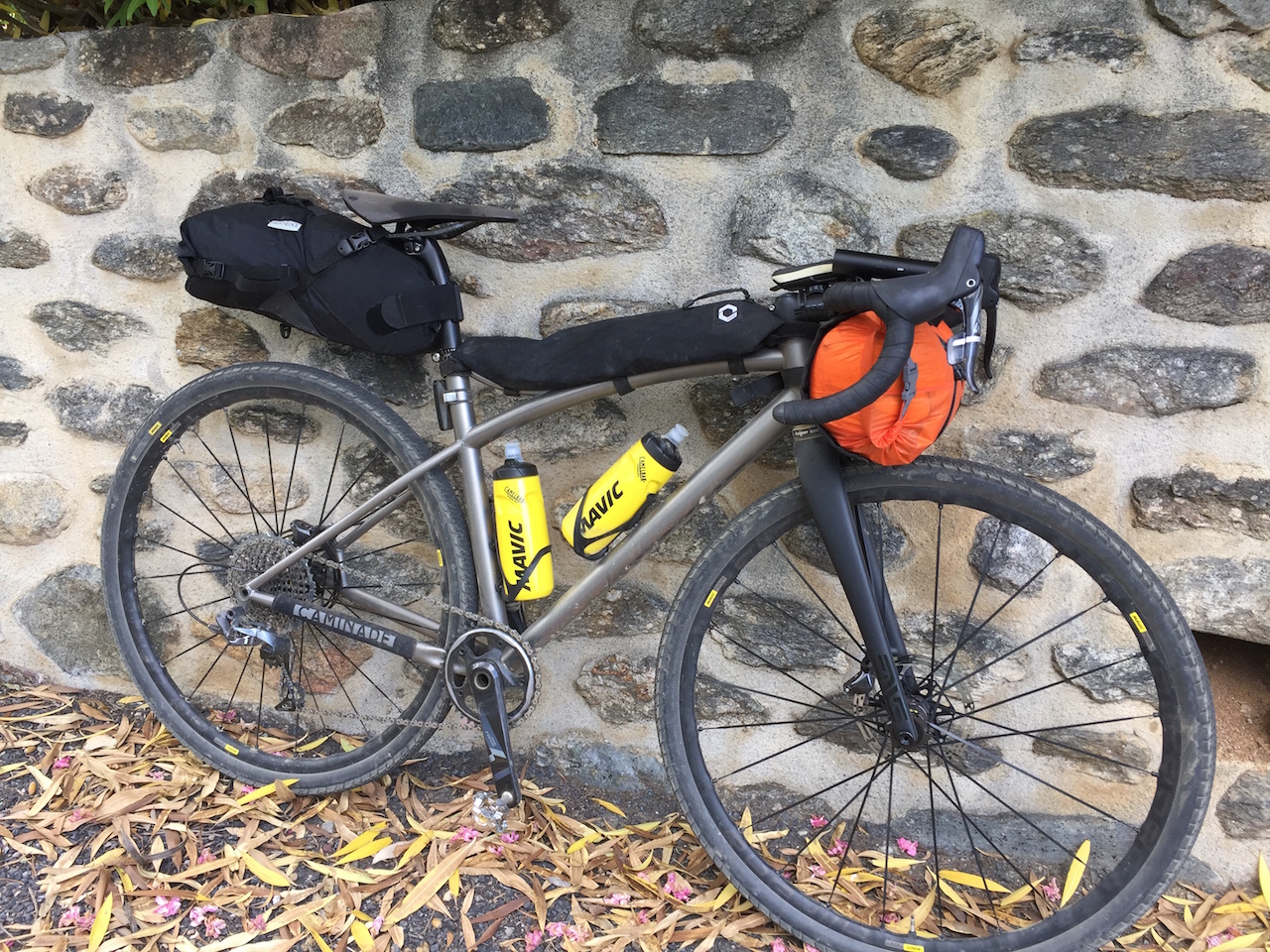 To ensure we packed well and everything would stay attached to the bike, I prepared a little test run at Canigou with a camp spot at 2000m altitude, roads, smooth tracks and beat up rough tracks.
The long climb by the Llech 4x4 track underlined that with a bike loaded with over 15kg I'd need to mount a 38 chainring in order to make it up the steep rocky tracks.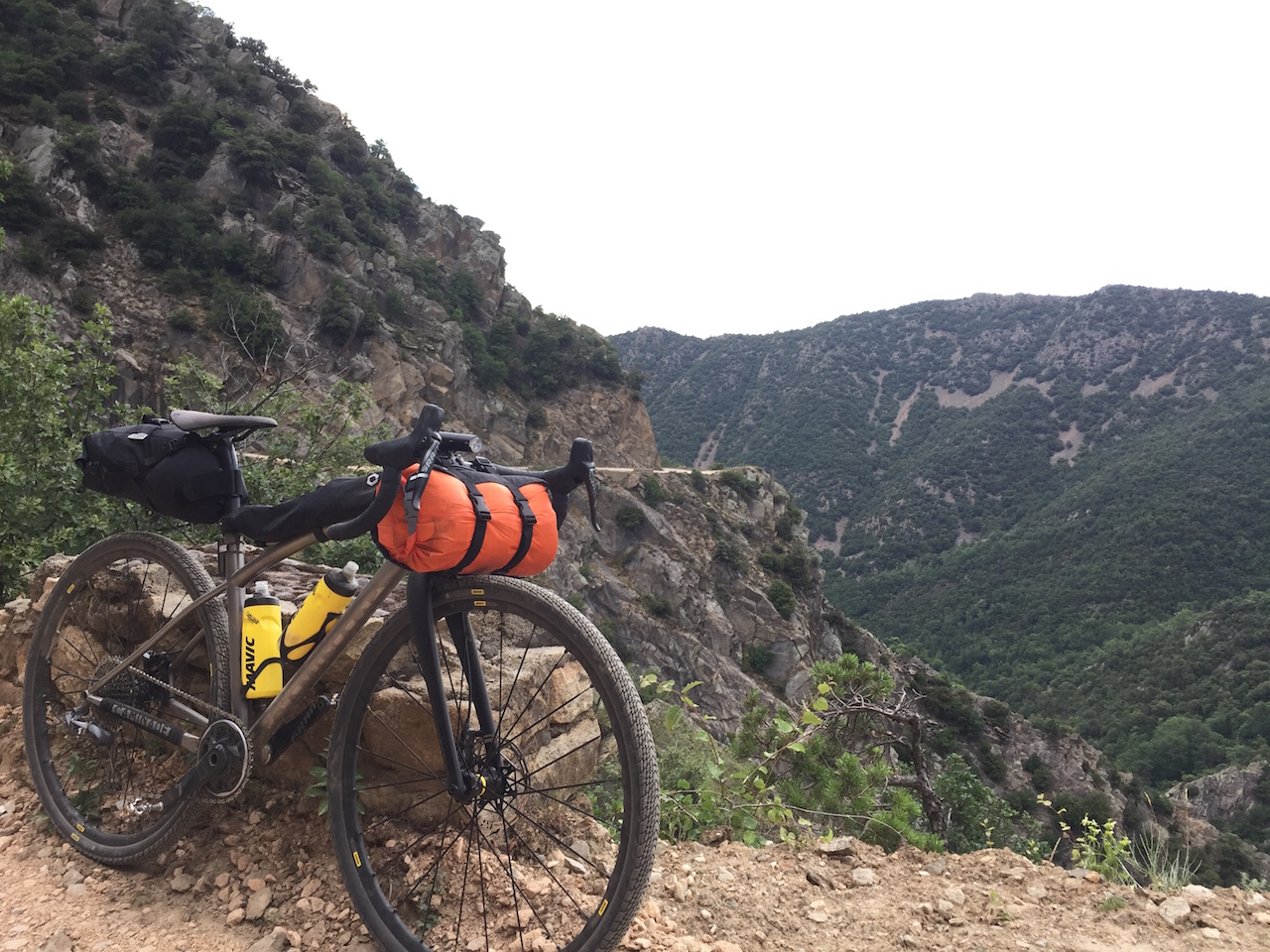 With night falling I decided to décided to bivouac a little below les Cortalets at 2 000m altitude.
The rain stopped, but the wind picked up.
The tent was very easy to put up and the little awning gave enough protection to keep my bags and shoes dry.
The inside is spacious and the double roof protected me impeccably from the wind. Good choice.

I fell asleep opposite the plain.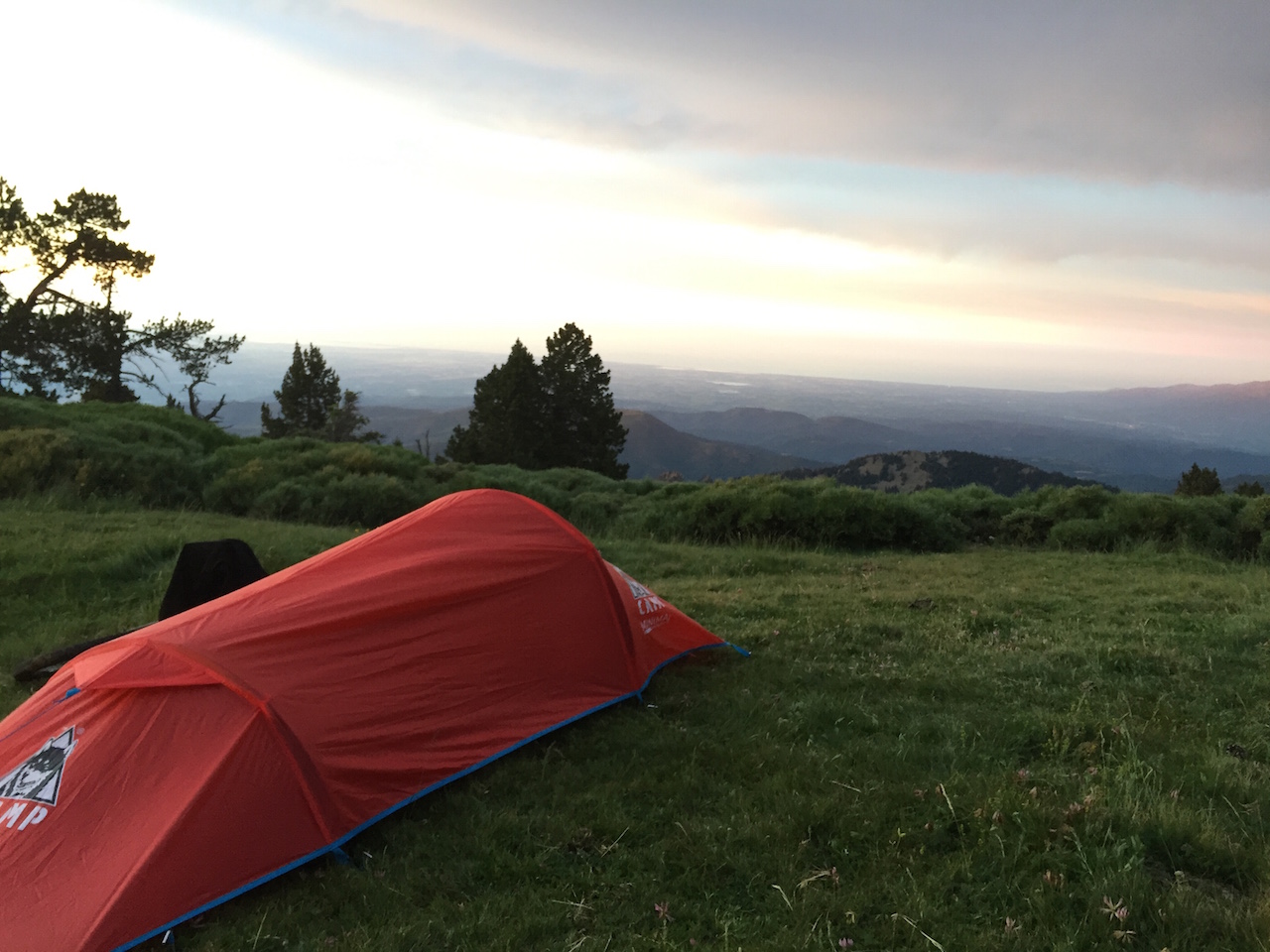 Sunrise pulled me from my slumber. The Nemo mattress and Sea to Summit sleeping bag were both a good choice as I'd slept comfortably, without feeling the cold, just wearing my underwear. 
I was reassured I'd chosen the correct kit.
My descent was on the Balatg forest road which is a real trail, perfect for testing the bags and attachments. It's here that I realised that with my short headtube I was on the limit of the handlebar bag touching the tyre in technical descents.  Something to check, 9L waterproof bag and max 17cm diameter.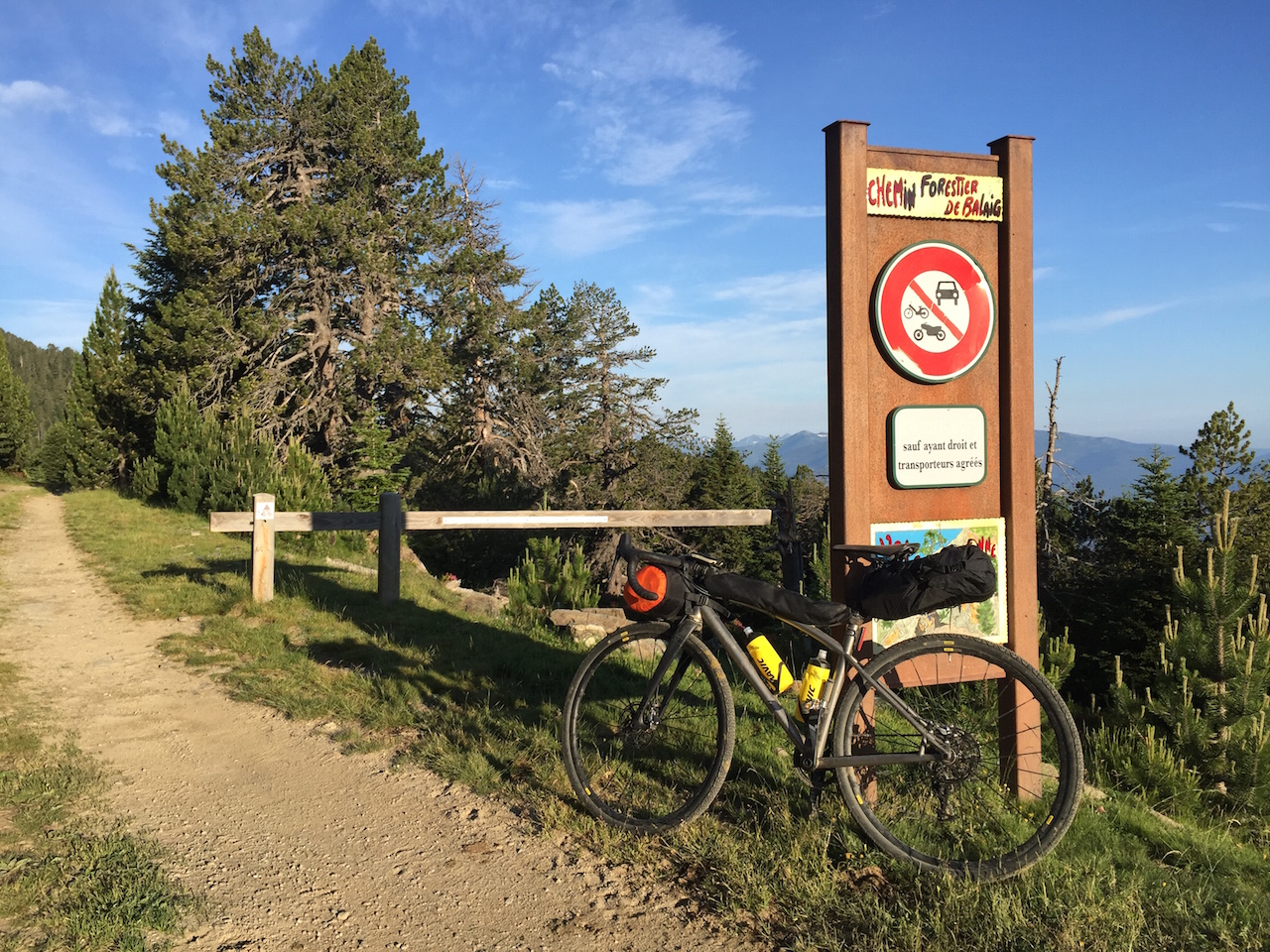 Nature offered all its early morning spectacles and an impressive panorama.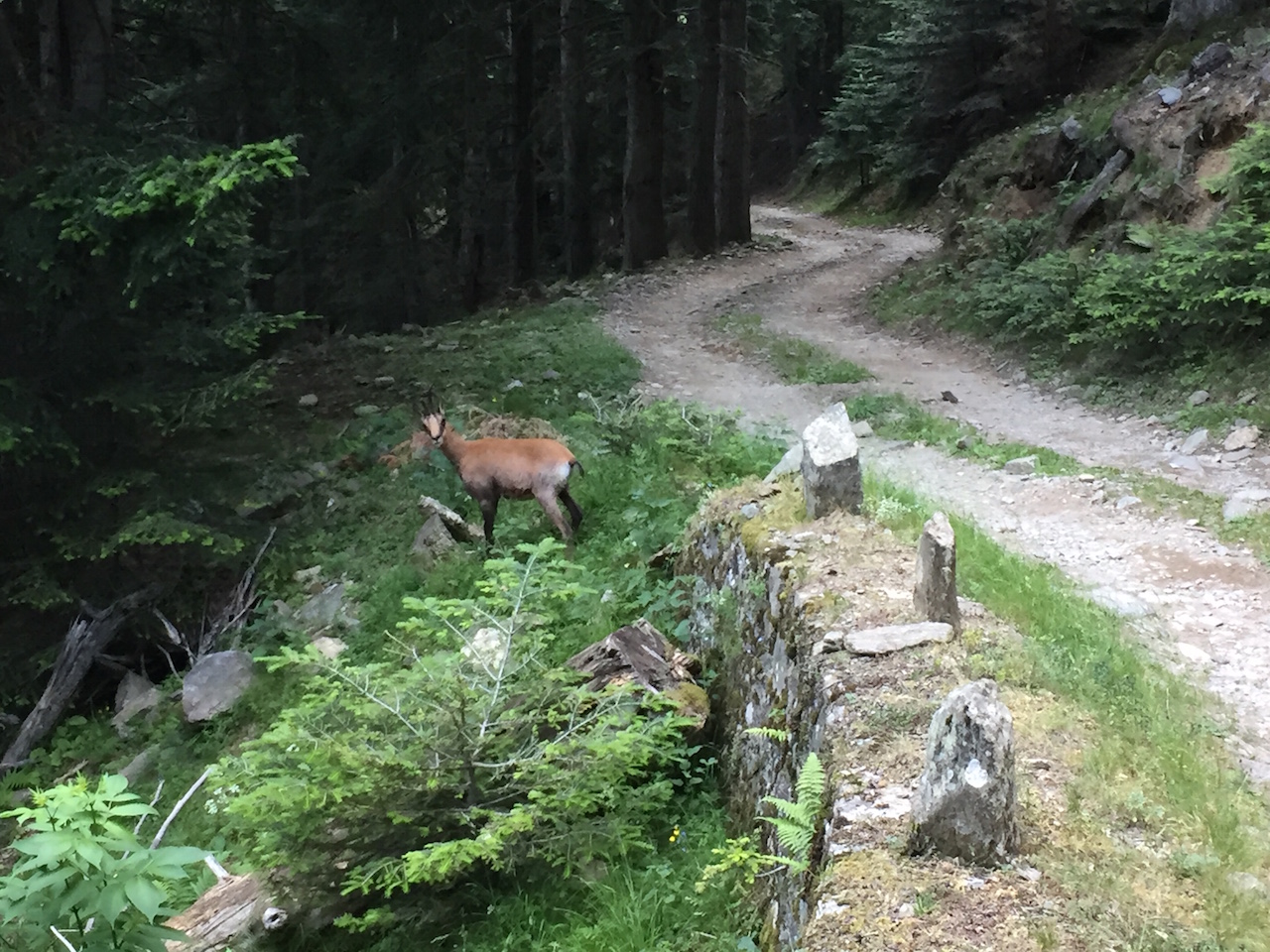 More to come
Words and photos: Sylvain, cofounder of Caminade
Published : 2018-07-08
RSS feed