Why make a gravel bike?
A gravel bike is a new type of bike whose speciality is multi-specialisation.
A good gravel should enable you, in the same ride and with the same pleasure, to ride on:
tarmac roads,
large wide non tarmaced forest roads,
small roads with an irregular surface,
wide forest trails,
non maintained roads,
narrow trails whether they're technical or not,
pavements and other urban features...
For this, each element must be carefully chosen for its polyvalence and the simplicity of maintenance.
The frame
In order to make comfort a priority, we must obviously avoid carbon and especially aluminium.
If the weight is important, we must choose titane rather than l'acier, and in both cases, the geometry is incredibly important to keep vertical comfort whilst maintaining the lateral stiffness needed for sharp pedalling bursts.
Because, yes, Gravel riding encourages you to go for it, if you've made the right tyre choice.
Tyres 
Tubeless is indispensable, because it is more reliable than an inner tube and above all because it improves the overall comfort without having a negative effect on output.
For those riding mostly on roads we advise a smooth 700x38mm such as the Hutchinson Overide.
For those riding mostly off-road we advise:
700x40mm with knobbles such as the Mavic AllRoad Iksium in regions with dirt in summer and mud in winter,
650x47mm smooth tyres such as the WTB Byway in the rocky terrain of the south of France and for more efficient braking.
Brakes
Hydraulic disc brakes in 160mm have proved their worth: reliability, low weight, easy maintenance... and they are perfectly integrated with the Sram gear shifters, the only option for the versatility needed on gravel riding.
Transmission
We are fans of the single chainring. Once you've mounted a 10-42 cassette, finding the best usage range is simply a matter of choosing the chainring best suited to your practice: minimum, maximum and average speed of your rides.
The irregular teeth of single chainring setups avoid losing the chain and lighten the transmission.
11 speed setups are the best choice and one lever is mounted to manage both changing up and down, enabling one simple movement if you change your mind, without moving your hands on the handlebar.
The handlebar
Even if the handlebar of a gravel appears the same as on a road bike, it is in fact much more flared on the lower part to improve handling in descent and with very little difference in height in order to have the hands not too low in this position that some would characterise as aerodynamic. 
Bikepacking
Pour porter vos affaires et autres équipements (tente, matelas, duvet) nous recommandons l'utilisation d'une bagagerie légère et modulable qui se fixe To carry all your kit and equipment (tent, mattress, sleeping bag) we recommend using lightweight adjustable bags that fix directly onto the bike using velcro in order to avoid a classic system with panniers.

We have developed our own bags in Ille sur Tet.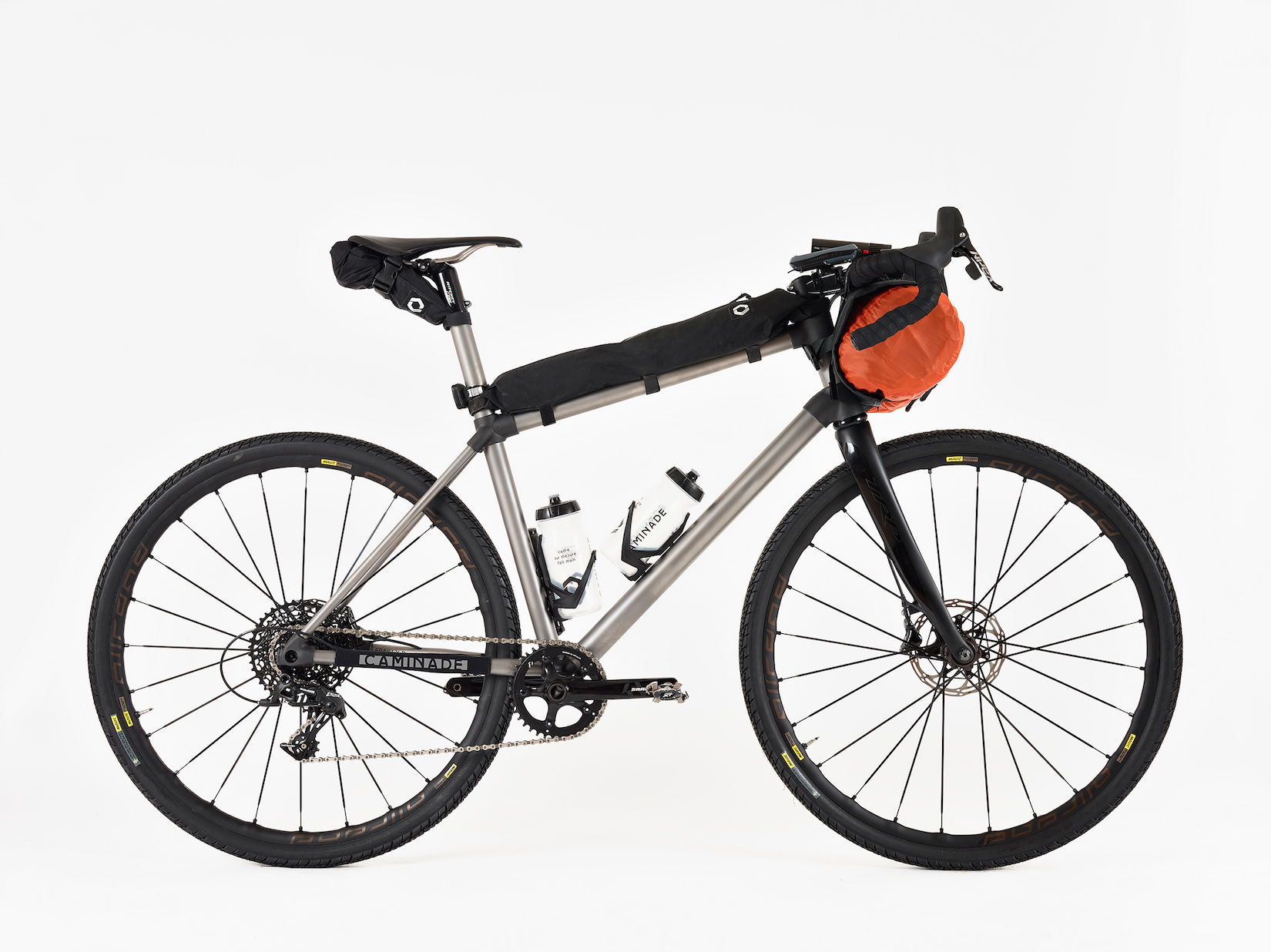 photo Magali Paulin/François Deladerrière
Published : 2015-10-30
RSS feed